Trailblaze Today with Adam Vollmer of Faraday Bikes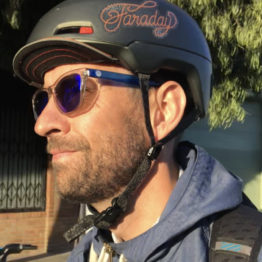 Adam Vollmer is a multidisciplinary design and engineering executive with a track record of creative problem solving, initiative, leadership, and impact.
Formerly a senior engineer in IDEO's Palo Alto office, Adam brings years of expertise in medical device design and biotechnology, as well as a passion for designing considered products and services that responsibly address pressing human needs. During his time at IDEO, insights around disrupting and democratizing transportation led Adam to found Faraday Bicycles, a trailblazing electric bicycle brand. Faraday's design-forward, consumer-centric approach to building both product and brand helped catalyze the rapid growth of the US ebike market into the multi-billion industry that it is today. Faraday was acquired by Pon Holdings in 2016.
Currently, Adam is a Systems Engineer and technical lead with Nike's NXT Smart Systems group. Smart Systems synthesizes consumer electronic expertise with Nike shoe and apparel design to bring smart, embedded technology to Nike products and help advance the future of sport. Hear is full story on the Outpost podcast!
Follow our podcasts on Spotify, iTunes, & Google Play!
Spotify
iTunes
Google Play
Check out our creative branding agency partner, Pineapple, on the web!
Podcast Co-Hosts:
Marcus V Colombano, Pineapple
Red Rainey, Creative Director